By Innocent Anaba
lagos—Peoples Democratic Party, PDP, senatorial candidate for Lagos Central, Chief Adesunmbo Onitiri, has rejected the results announced by the Independent National Electoral Commission, INEC, for the senatorial district, saying that he will go to court to restore the mandate given to him by people of the district.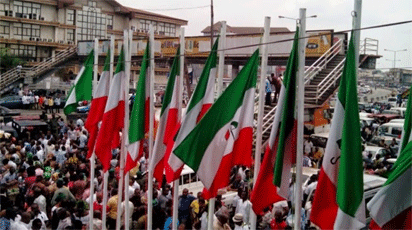 Insisting that what was announced by INEC in favour of the All Progressive Congress, APC, Remi Tinubu, was not the results as announced at the end of the exercise at the five local governments that make up the senatorial district, he said "I am planning to go to court. We have to go to court. We can't allow this day light robbery to go unchallenged."
Addressing newsmen in Lagos, yesterday on the result announced by INEC for Lagos Central and faulting the results, he said "We have all the evidence to support my case that I was robbed of my well deserved victory. I won in four out of the five LGAs in the senatorial district, but the APC, in collusion with compromised INEC and men of the Nigerian Police, doctored the original result.
A-Ibom PDP demands adequate security for INEC offices
"The election was free and fair, though in lots of places, APC thugs in collusion with INEC and the military started tempering with the results. Even the one they are relying on was mutilated as figures were changed. It was signed by APC party agent, Wahab King. We didn't see the returning officer and INEC did not announce the result in the open, it was sneaked to INEC.
"How can somebody announce an election result based on this mutilated result sheet (displaying the result sheet)?   After the elections at the five local government areas, namely Lagos Island, Apapa, Lagos Island, Eti-Osa and Surelere, our agents were turned round on where the collation was.
"Furthermore, this is the most fraudulent, crooked and compromised election Nigeria ever had since the history of democracy in our country. This is totally unaccepted and a total disgrace to our polity and psyche. Nigeria never had it so bad that the present government is desperate to remain in power by all means by subverting the wishes of Nigerians people. The will of the people for change must be respected.
"Will advice this government to take a cue from the former President Goodluck Jonathan who surrendered power freely before the process was concluded Nigeria is greater than any individual or office holder.
"The will of the people of Lagos have been tampered with and altered altogether. The result being announced is totally different from the mandate of majority Lagosians. This Presidential and national assembly elections held on Saturday is no longer free, not fair and not credible."
"We, therefore, call on INEC to produce the good desires and will of the people of Lagos central senatorial as freely expressed on February 23,  at various polling units. The victory of any candidate does not deserve the blood of Nigerians."
Related