…As Nigeria spends $1b yearly to import fish
By Elizabeth Uwandu
Dr Patricia Anyanwu, Acting Executive Director, Nigerian Institute for Oceanography and Marine  Research, NIOMR stated that  empowerment of youths and women in fish production will encourage self reliance,  boost the economy and reduce the $1 billion spent yearly to import fish.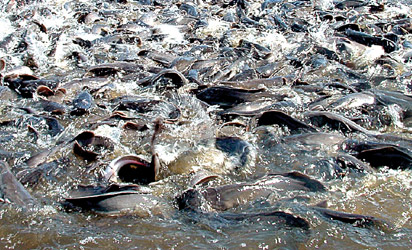 NIOMR ED, declaring the weeklong training on fish production, fish processing and fish feed production for unemployed youths and women from selected Senatorial districts in Nigeria said that the training was organised as part of the  Green Initiative of President Muhammad Buhari led administration. She explained that the training was timely based on the efforts made in diversifying the economy through agriculture, and the shift in oil dependence.
Atiku in Akwa Ibom, promises 70% attention to youth, women issues
Speaking to the participants, Dr Anyanwu said, " I enjoin you as participants to make good use of the knowledge and skills being taught and shown to you through lectures and practicals on fish production and post harvest technology.
" The fisheries sector and aquaculture now occupy prominent position in the economy of Nigeria. This is because fisheries and aquaculture play major roles  in employment generation; poverty alleviation; food security; and foreign exchange earning etc., especially for the rural poor.
" This is as the total demand for fish in Nigeria for 2015 was 3.26 million tonnes according to the Federal Department of Fisheries. Whereas, total domestic production in the same year was 1.027 million tonnes, part of the deficit of 2.233 million tonnes is met through import.
" Why Nigeria spend over $1 billion importing fish, our goal is to be self sufficient in fish production. As the deficit in fish production can be met through local production by engaging the youths and women in agriculture in a  sustainable manner that will increase fish production and improved standard of living. " NIOMR CEO said.
She added that part of the ways to sustain the drive for local fish production and post harvest technology was to equip participants with Starter packs.
FG restates commitment to food sufficiency
Her words, " As trainees after the programme you will be empowered with Starter Pack to kick start their own fish business. The Starter pack is  comprised of one tank; catfish juveniles; bags of fish feed; plastic basins; one scale; one plastic sieve; 25kg bag of salt and one logbook for record keeping.
" I encourage you to use this training in increasing Nigeria's revenue through local fish production and also improved your standard of living. Effective monitoring will be put in place and there will be provision of networking. " Dr Anyanwu said.